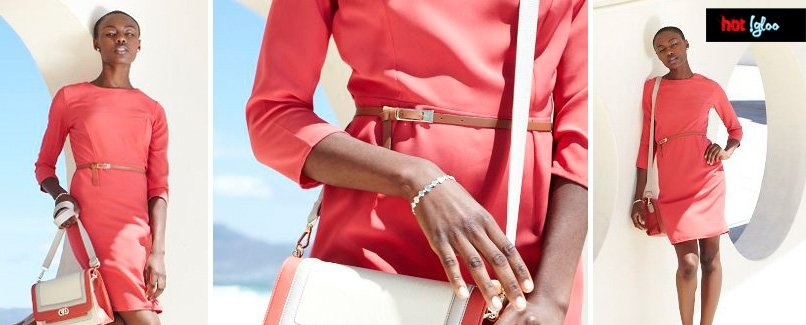 Hot !gloo
The hot !gloo collection draws on fashion icons, Coco Chanel, Twiggy and Audrey Hepburn, and the beauty and feminine sensibility of these icons is evidently etched into every design. hot !gloo creates a fusion between the everlasting charm of classic designs and current fashion trends. It is this unique contrast that adds an exquisite, captivating quality making the brand's range truly exceptional.
As the name suggests, the hot !gloo label understands contrast. By using divergent fashion motifs in their designs, they create juxtaposition between vintage and modern fashion. This translates to their designs, and creates an awareness of both the brevity and timelessness synonymous with the fashion design industry.
Having perfected the intricacies of adapting vintage designs to suit modern fashion trends and contemporary female figures, hot !gloo uses form-fitting cuts to tastefully highlight and enhance the curves of the female figure. Every item in hot !gloo's collection is comfortable and flattering since their designs embody the source of natural beauty mirrored by collection's inspirational fashion icons.
As a basis to an enchanting ensemble, hot !gloo designs allude to a different age, and imbue a unique, vintage sophistication. Designers from hot !gloo focus on timeless designs inspired by fashion motifs from the 1950's and 1960's. A touch of modernity is added to an overall classic creation - thus fulfilling the brand's ideals of adding the very best elements of vintage designs together with a modern touch. The hot !gloo designers use high-quality, luxurious fabrics and ensure that the fit and cut of their designs are flattering and comfortable, whilst remaining stylish and unique.
The hot !gloo collection ranges from sleek, pencil dresses to cute bubble dresses, making use of pertinent diversity of design, detail and colour. Designs by hot !gloo are unequivocally versatile and they effortlessly form part of a causal, office and or even formal wardrobe.
When wearing designs from the hot !gloo collection there is a marked inclination to embrace the glamour and enchantment of each garment's vintage allure. Adding a pair of Mary Jane court heels, a string of pearl and red lipstick to a hot !gloo design consolidates