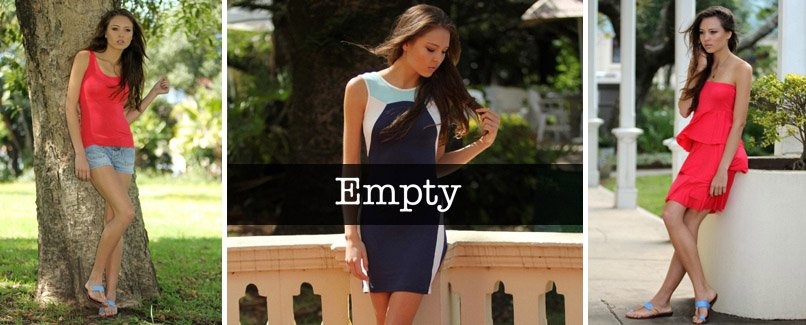 Empty Apparel
Empty Apparel celebrates the beauty of the female form by creating pieces that incorporate comfort and versatility into timeless designs that are fun and easy to wear. The use of classic designs and exciting colours makes Empty Apparel a brand that caters for every woman's fashion requirements.
The diversity of colour and cut allow for endless experimentation. From feminine pull-overs, sexy racerback dresses, to fringe skirts, garments go beyond the basic function of clothing and germinate a deep-felt adoration for high-quality, exquisitely designed clothing.
By creating the perfect balance between unique twists and the innate simplicity of classic designs, Empty Apparel's fashion range is ideal as a palette with which to explore your own, possibly yet to be discovered, sense of expression through fashion.
Empty Apparel clothing is the epitome of an exquisite and versatile day-to-night collection. Because the clothing is crafted from premium quality cotton Lycra and other high-quality fabrics, Empty Apparel's dresses, skirts and tops are simultaneously cool and comfortable. The range is perfect for those who desire a beautiful, intrepid daytime look that can be coupled with flats, a shopper or tote bag – and when night falls, Empty Apparel's creations can be easily transformed into the cornerstone of an elegant ensemble. Add matching heels and delicate, feminine jewellery for a charming combination of natural grace and sophistication.
Clothing designed by Empty Apparel is versatile and is sure to suit any lifestyle. Designed with young South African women in mind, Empty Apparel is a fashion brand that considers the vivacity, mobility and boldness of the modern woman. Furthermore, Empty Apparel captures the daring, exuberant, inspired nature of the modern women in the use of rich colour tones and the brand's observance of the inherent sensuality of femininity, which is often forgotten in modern-day women's fashion.
Empty Apparel understands the relationship between aesthetic value of fashion and its functionality – so the way you incorporate the brand's garments into your own style will never, ever be dictated by an inflexible cut and fit. Every design in Empty Apparel's range is crafted to fit women comfortably and these designs thus make for a joyful and original fashion experience.
The liberating nature of Empty Apparel's range gives women the confidence to play with the way they express their individuality, whether it be through a bright coral layered dress that makes a profound statement, or through a grey and teal milly dress where the art of a subtle use of contrast and colour is mastered.