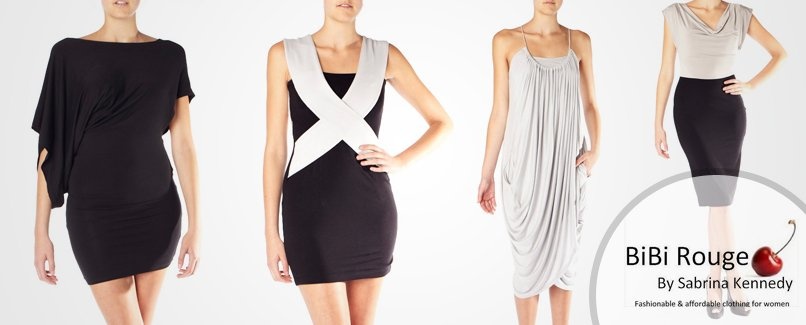 Bibi Rouge
The BiBi Rouge Collection is a proudly South African clothing range for women who understand and appreciate the elegance of classic and feminine designs. Comprising rich colours and intricate details, the BiBi Rouge range is sophisticated and timeless but not without definite urban edge.
The clothing label titled 'BiBi Rouge by Sabrina Kennedy' was launched in 2011. As a designer, Sabrina strives to uphold an exceptional standard of design by ensuring garments are made of the highest quality fabric and are created to be comfortable and flattering for each and every body type.
This highly individualistic range provides extraordinary designs including gorgeous flowing skirts, feminine frills and uniquely designed adjustable straps. The range draws on the subtle charm, strength and femininity associated with the Grecian goddess archetype.
As a collection intent on empowering women by making them look and feel beautiful in timeless, polished designs, the BiBi Rouge range has a fascinating element of intimacy. The collection embraces the passionate flame of the modern woman, whilst allowing for an expression of femininity through the elegance and grace conveyed by all designs. Furthermore, Sabrina gives the brand a dash of vivacity, personality and added personal touch by assigning each garment with a woman's name.
BiBi Rouge's flowing, charming designs are spectacular additions to any girl's wardrobe no matter what your taste or figure. The high-quality materials used are expertly chosen to complement the designs and ensure a flattering fit. The range varies from luxurious and feminine items, to garments ideal for the office as well as sophisticated and exquisite formalwear.
BiBi Rouge's products are inspiring and fresh and the brand elegantly captures formal attire at its best. However, many of these gorgeous creations can be worn everyday as part of an effortless causal wardrobe. They can also easily be dressed down for semi-formal occasions.
Building ensembles with BiBi Rouge's designs is profoundly uncomplicated as the range can be complemented by anything from delicate silver or gold accessories, to chunky afrochic jewellery.
As a range that enhances the beauty of the female form, BiBi Rouge designs are well matched with delicate heels and flats alike. A gorgeous pair of platform courts completes an elegant BiBi Rouge outfit compiled for a special formal occasion. With a pair of wicker wedges, or ankle boots, BiBi Rouge designs transform a casual look into an easy, laidback ensemble. Additionally, throw on a simple handbag or a detailed, embellished one for different looks.